Happy Friday Everyone! I have a couple of updates to share heading into the weekend:
Noah's Pretzels Update
Regular readers of the Experience know how I support
Noah's Pretzel's
, a DC-based pretzel shop that offers GFCF pretzels (and beer!) and also promotes autism awareness. Well, this past week I received an e-mail From Dwayne, one of the founders of Noah's Pretzels and Noah's dad. He had some exciting new to share: Noah's is now the official pretzel of the Washington Wizards NBA team! They have a permanent space at the Verizon Center at Section 112, so you Capitals and Hoyas fans can support Noah's too!
Please, if you live in the Washington DC area, or are visiting our nation's Capitol, support Noah's Pretzels either at the Verizon Center or at one of their other locations, and help spread the word about the GFCF diet and, more importantly, autism awareness.
The GFCF Experience Gets an Award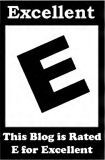 I am humbled that Cheryl over at
Gluten Free Goodness
chose to present me with this Excellence in Blogging Award. I am truly honored. Cheryl blogs about some awesome recipes that use no gluten, dairy, soy, eggs, or corn - and incredible challenge! Yet she pulls it off so easily, and was truly deserving of this award herself.
The rules for receiving this award are as follows:
The bad news is that there are so many excellent blogs out there - which ones should I choose? The good news, though, is that many excellent bloggers have already deservedly received this award, either from Cheryl, Rachel, the Crispy Cook (who awarded Cheryl), or someone else.
With this in mind, I'd like to pass this award on to the following:
Karen over at A Deaf Mom Shares Her World. Karen routinely writes about the joys and tribulations of raising children who are hearing impaired, and being hearing impaired herself. She is an awesome mother, wife, and advocate.
The Folks over at 5 Minutes for Special Needs. This talented group of writers takes time away from their own blogs to share their insights on different aspects of the special needs community. Always an excellent read.
Lea at Lea's Gluten Free. Lea's site is filled with terrific writing, photography, and gluten free cooking and tips.
Daddy Claxton over at
the Dad's Center
. A disclaimer here: I am one of the guest writer's at this site. But Daddy is the man who makes this site go. His writings are full of insights about raising 7 (!) children, including a special needs child, owning Macs, and trying to root for Auburn football. Daddy Claxton's posts are always entertaining, informative, and honest.
And finally, Carrie. Most of us know her as the Ginger Lemon Girl. But I want to acknowledge her other blog,
Heart of a Servant
. It is in this blog where Carrie talks about living a frugal lifestyle, and serving others in a Christian way. Her series on managing your home and budget is exceptional, as his her honesty.
Thank you all for your excellent blogging!